Installing and gluing entrance carpets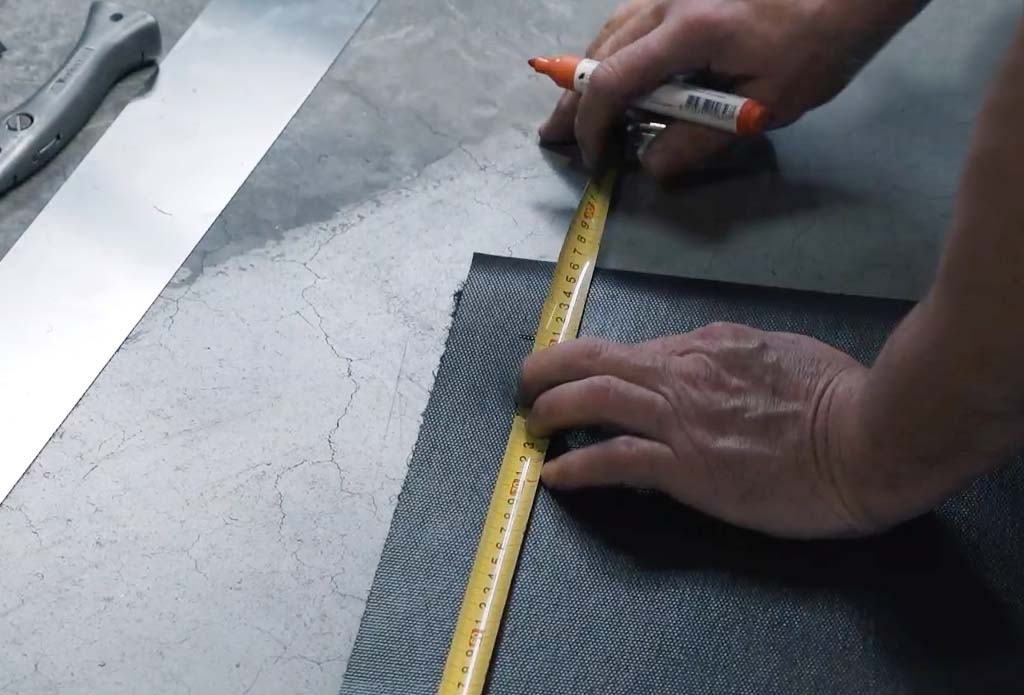 General
The processing guidelines must always be observed for an optimum result.
Only use adhesives from one product line of one and the same supplier.
Check the entrance mat before laying for errors and to ensure that the material matches with the sample.
Check before laying whether the specifications of the entrance mat match the intended user objectives.
The entrance mat is meant for indoor use unless specifically is stated that it suitable for outdoor use.
Preparation
The base must be clean, have tensile strength and be compression resistant, dirt free, grease free and permanently dry.
Irregular floors must be levelled to cover old adhesive layer and/or bitumen product residue.
General installing instructions
The minimum temperature of the subfloor must at least be 15 ºC.
The minimum ambient temperature must be ± 18 ºC.
The relative humidity may not be higher than 70%.
The entrance mat and required tools must at least acclimatize for 24 hours under the aforementioned conditions before installation.
Direct sunlight and radiation from heat sources must be prevented during installation.
Install the entrance material in the length and/or walking direction as much as possible for a beautiful and stronger result.
Installation method per situation
Small areas up to 5 m²
(such as mats for small fits)
Areas larger than 5 m²
(entrance areas in large rooms)
You can install the entrance mat loose on level, soft or dry bases.
Areas larger than 5 m² must be fully glued.
We recommend gluing the entrance mat on to the base or to fit in place using double-sided tape if possible.
The entrance mat must be installed tension free and level after which it must be rubbed and rolled so that it sticks properly.
We recommend using underlay that is suitable for both the entrance mat and the relevant floor when installing loose on carpet and/or harder floors.
Always strictly follow the adhesive instructions of your adhesive producer.
Please take into account a possible stretch or shrinkage of at most 0,4%.
General adhesive instructions
We recommend using a suitable fiber enhanced dispersion adhesive (maximum humidity of the floor < 2,5%) for gluing on to absorbing (porous) bases and levelled areas.
We recommend using a suitable 2-component PU adhesive for gluing on sealed (non-porous) bases.
Contact adhesive must be used for installing on stairs.
Suitable adhesive types for PVC products
We recommend the following for gluing on to absorbing (porous) bases and levelled areas:
We recommend the following for gluing on to (non-porous) bases and levelled areas:
Wet gluing
Eurocol: 646 Eurostar Premium
UZIN: UZIN KE 66
F. Ball: Styccobond F45
All to be applied using a TKB A2 adhesive spreader
Eurocol: 646 Eurostar Premium
UZIN: UZIN KR 430
F. Ball: Styccobond F45
All to be applied using a TKB A2 adhesive spreader
Dry gluing
Sigan 1 (in combination with Planus)
Sigan 2
Suitable adhesive types for Pura Backing™ products
 

We recommend the following for gluing on to absorbing (porous) bases and levelled areas:

We recommend the following for gluing on to (non-porous) bases and levelled areas:

Wet gluing
Eurocol: 140 Euromix PU
UZIN: UZIN KE 66
F. Ball: Styccobond F74, F81, F84
All to be applied using a TKB A2 adhesive spreader
Eurocol: 140 Euromix PU
UZIN: UZIN KR 430
F. Ball: Styccobond F74, F81, F84
All to be applied using a TKB A2 adhesive spreader
Dry gluing
Sigan 1 (in combination with Planus)
Sigan 2